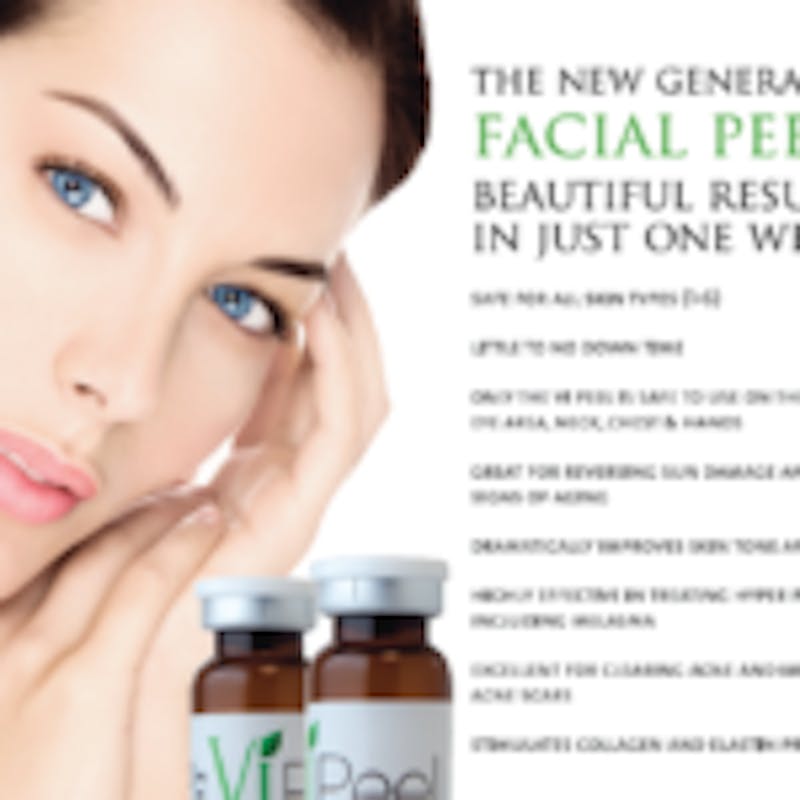 ViPeel for New Skin in 7 Days! Virtually painless, Affordable, Remarkable Results! Treats all skin types! GlowMD Laser MedSpa now offering this VI Peel™ to leave your skin smoother, brighter and more youthful.
What is a VI Peel™?
A VI Peel™ is a unique blend of ingredients that produces powerful results that treats sun damage and other signs of aging and melasma to leave the skin smooth and soft. The primary advantages of a VI Peel™ is its ability to do its job without the discomfort some other chemical peels have and corrects the skin at the cellular level rather than the outer layer of skin. VI Peel™ combines TCA, Retin-A, salicylic acid and Vitamin C, making it safe for all skin types. It can also be used on the hands and chest to remove sun spots.
There are three types of VI Peel™ solutions:
VI Peel™ Purify

– This formula treats acne and the side effects that come with it including scarring and post-inflammatory hyperpigmentation.

VI Peel™ Precision
– This is a stronger formula of the VIPeel™ – 25 percent stronger
VI Peel™ Precision Plus
– This treats melasma and pigmentation with a precision booster and extra pads. ​
Benefits of a VI Peel™
A VI Peel™ is very effective at removing the signs of aging, including sun spots, age spots and fine lines and wrinkles. It is often chosen for a chemical peel because it offers the following benefits:
Safe to use on the hands, neck, and chest
No discomfort
Results are visible in days
No skin preparation
Very little downtime
Is a VI Peel™ Right for Me?
The VI Peel™ is right for you if you have visible age or sun spots, melasma or other signs of aging and want to smooth your skin beyond using fillers and injectables. Additionally, a VI Peel™ is ideal if you want a peel that results in less downtime and side effects.
VI Peel™ Recovery
Immediately following the VI Peel™, the skin has a brown or reddish tone to it that lasts for the first couple of days. Most patients look slightly tan so they are able to continue working. The peeling begins at about the three-day post peel mark and is done by the end of day four. Within about a week, the process is complete and the skin looks smooth and revitalized. Normal routines continue as there is little to no problems with the appearance; however, we recommend no vigorous exercise or activities for the first few days. Most patients require only one treatment to achieve smoother skin although it is suggested that maintenance peels be performed about every three to four months.
How Much Does a VI Peel™ Cost in Fredericksburg, VA ?
The cost of VI Peel™ varies depending on where the peel is performed and how many treatments are required. During a consultation, we can discuss the cost with you following an evaluation of your skin. We offer excellent financing through CareCredit® to make more procedures available to more patients.
What Do I Do Next?
If you are interested in finding out if VI Peel™ is an option to achieve younger, smoother skin, we recommend you schedule a consultation. At this appointment, we will evaluate your skin to determine if VI Peel™ or another peel is the right option for you. We will also spend time answering questions and addressing any of your concerns.
Contact Us today to schedule a consultation at 540-371-9098.
​