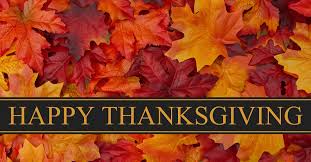 Thanksgiving is here! I get nostalgic thinking of childhood memories of my Grandma's kitchen in New Orleans, Louisiana. We always started the day watching the Macy's Day Parade. Then the relatives would begin coming over one family at a time, gradually filling the house with voices, laughter and food. OMG THE FOOD! Turkey, gravy, Ham, sweet potatoes with marshmallow topping, mashed potatoes, more gravy, crawfish bisque, dirty rice, oyster dressing, cornbread stuffing, peas, cranberry sauce and a buffet of desserts in all shapes and sizes! I can still smell it!
When you fast-forward 45 years (or so) to today, Thanksgiving is very different. The celebration is smaller due to family being separated by distance. I try to focus on all the reasons to be truly Thankful for my life and the people in it. I still watch the parade. I do make the cornbread dressing (Grandma's recipe) and a juicy, golden brown turkey I can be proud of. I try to remember the feeling of being with my relatives that are no longer here and what I learned from them. Give hugs. Be kind. Don't talk back. Say "Yes, Ma'am" and "Yes, Sir". Laugh loud. Say I Love You and… Eat The Pie!
What are you Thankful for: Health. Loved Ones. Job. Opportunity. Friends. Home. Food. Pets?
To all of our customers, WE are Thankful for YOU!
We wish you a Very Happy Thanksgiving!