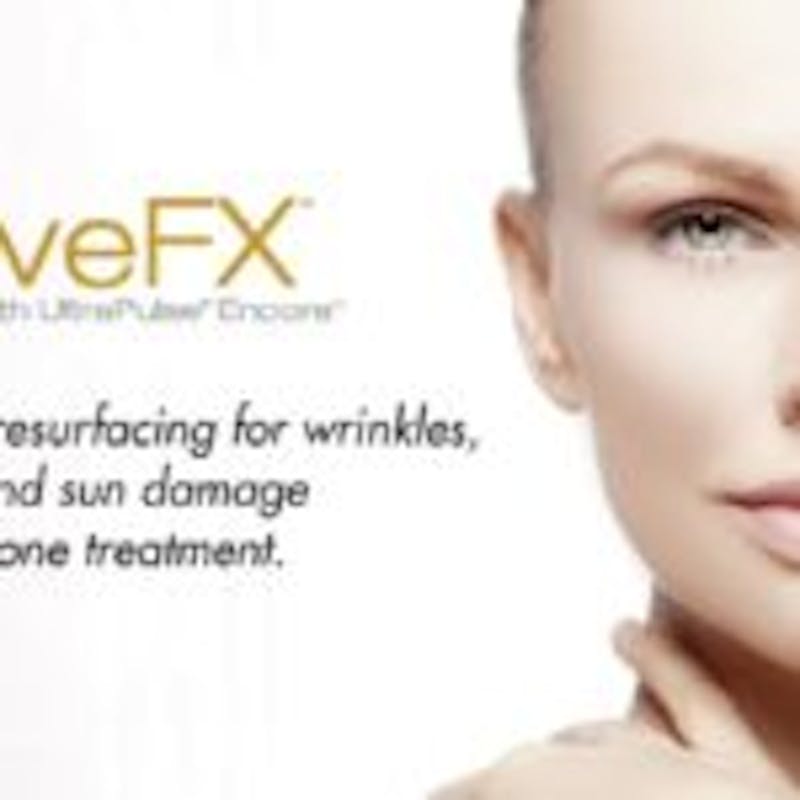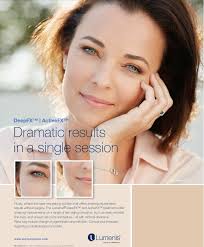 Revolutionary CO2 lasers from Lumenis with a unique patented Acupulse™ technology to lessen side effects and downtimes of traditional CO2 laser. These CO2 procedures can offer total solutions in one treatment with minimal downtime for treatment of sun damage, fine and deep lines, and combines superficial and deep treatment of acne scars.
Fractionated laser resurfacing has become an important part of rejuvenating the changes that occur with aging and sun exposure. Non-surgical, minimal downtime!
Acupulse CO2 by Lumines is the new gold standard laser skin tightening and skin resurfacing system combining multiple levels in one device for improved efficiency. The high energy beams activates important healing cells called Fibroblasts which turn on and begin laying down strands of fresh collagen and elastin. This an also target melanin deposits in the skin which can also even out skin tone.
The Total Skincare Solution
DeepFX™ | ActiveFX™ are two fractional resurfacing solutions of the AcuPulse™ systems, developed by the pioneer of aesthetic medicine and trusted by leading professionals around the world.
WHAT IS ACTIVE FX LASER RESURFACING?
Active FX is CO2 laser skin resurfacing for the active person. It gets its name from the fast recovery time following the procedure, allowing for active individuals to get back to to living an active and exciting lifestyle. Only the outermost layer of skin is treated by the Active FX laser, leaving small parts of your skin untreated to allow for much faster healing. The treatment will result in the outermost layer of skin peeling off, revealing a fresh layer of healthy and vibrant skin.
WHAT IS DEEP FX LASER RESURFACING?
DeepFX is CO2 laser skin resurfacing for deeper scars, fine lines, or wrinkles, you may require a more serious treatment than the Active FX laser can offer. That is when Deep FX laser resurfacing treatment comes in. Deep FX laser resurfacing applies deep heat to your skin, promoting the production of collagen while smoothing out scars and wrinkles. This treatment can also improve the texture of your skin, giving you smooth and soft skin. The DeepFX treatment is fantastic for wrinkles around the mouth and eyes!
WHAT IS TOTAL FX LASER RESURFACING?
TotalFX combines the ActiveFX and the DeepFX systems. The results are fractional resurfacing of the surface of your skin, removing sun damage and brown spots, as well as deeper skin, removing wrinkles, scars and uneven skin tone.TotalFX is a complete resurfacing treatment capable of astounding results.
With DeepFX™ | ActiveFX™ we can offer you amazing results on a range of skin aging concerns, from deep wrinkles to fine lines and uneven skin tone and texture. DeepFX™ and ActiveFX™ affect different layers of your skin, depending on your specific concern.

Is it right for me?
Lumenis® CO2 laser procedures are not suitable for everyone, for example patients who have taken Accutane® (Isotretinoin) within the past 6-12 months, or had a history of keloid formation. Risks may include change of pigmentation, infection, redness, textural changes or scarring. Be sure to consult your physician regarding treatment options available and related contraindications and risks based on your individual concerns and medical history, before choosing a treatment.

What Should I Expect? When Will I See Results?
The main advantage of DeepFX™ and ActiveFX™ is that results are visible after one single treatment. As your skin heals following the treatment, you will begin to notice an improvement in wrinkles, fine lines, tone and texture.
Typically, you should expect to continue to see improvement for up to 18 months following the procedure.

What Can I Expect After Treatment?
Immediately following treatment, your skin will be warm and may be slightly red and swollen, depending on your customized treatment settings. You will require some cool packs and vinegar soaks for several days after treatment.
To support you in the healing process, a daily skincare routine will be prescribed.

How Does It Work?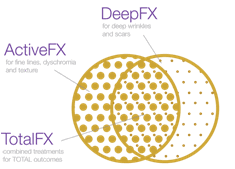 DeepFX™ | ActiveFX™ technology
The Lumenis® fractional laser creates microscopic channels that trigger the process of new collagen and elastic fibers production, while leaving some unaffected skin in between the channels to reduce healing time. The result is deep dermal regeneration that dramatically improves your skin elasticity and appearance.
The unique power and precision of Lumenis® technology enables your physician to customize treatments for your specific skin concerns and needs, with optimal comfort and healing time.
The Treatment
To minimize discomfort during deeper treatments, a local anesthetic will be applied to your skin for numbing, and oral medication may be prescribed if the treatment requires it. Depending on the treatment area, you can expect the session to last approximately 20-30 minutes.
During the treatment you may feel a warm sensation as the laser is applied but you may have medium, mild, or no discomfort.
If you aren't sure which approach is right for you, simply schedule a consultation to pinpoint your specific needs. Whether you opt for Active FX, Deep FX, each procedure is performed in the comfort of our laser suite with both oral sedation (if needed) and topical anesthetics. The procedure can take anywhere from 30 to 60 minutes, and once complete; patients will experience a sensation similar to a sunburn. Post-treatment aftercare is carefully designed by our staff. The recovery process concludes with a comprehensive consultation and long-term skin care and available treatments to continue improving the health and beauty of your skin.
Call us to day for your consultation! 540-371-7118